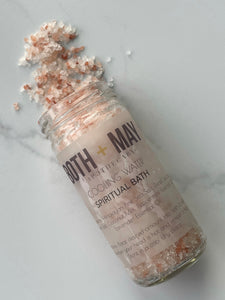 80thandmay.com
Cooling Water Bath Salt
Regular price
$15.00
$0.00
Unit price
per
Remember that gospel song that talked about Cooling Water from Grandma's well? Well, here it is. Cooling Water Bath Salt will get rid of stagnant negative energy accumulated throughout the day, cool you down after a frustrating day, remineralize and gently exfoliate the skin, calm your mind and keep you out of jail. Need I say more?
KEY INGREDIENTS: 
Himalayan Pink Sea Salt & Dead Sea Salt- This combination of salts serves multiple purposes. They cleanse you of negative and stagnant energy, provide balance to the mind and provide skin with minerals that you can only find in salts.
Coconut Milks- Also serves a dual purpose. Not only does coconut milk gently exfoliate and moisturize the skin it also serves as a spiritual purifier and adds sweetness to your life. 
FULL INGREDIENT LIST: 
Himalayan Pink Sea Salt, Dead Sea Salt, Epsom Salt, Coconut Milk, Lavender Essential Oil, Peppermint Essential Oil
DIRECTIONS: After running your bath, sprinkle desired amount into your hand then add to your bath wile reciting your intentions. While soaking, visualize your slate being wiped clean but be sure to relax. Allow bath water to fully drain before getting out of the tub. 
---